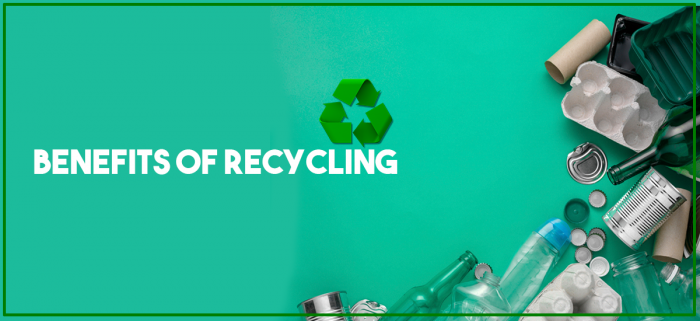 Benefits Of Recycle — Save Your Planet
Let's visualize this, you went to a store to get milk, shampoo, and cereal, you found what you needed, you paid for it, what is the first thing you do when you see that the package you had bought? You checked the product, kept it, used it and will obviously throw the packaging away. Wait a minute, let's rewind this scenario and make some adjustments instead of throwing away for what you assumed is useless, here is what you should have done;
Squelch the shampoo bottle and twist the bottle cap before pitching it into the bin
Flatten out the milk container as well as the cereal box
Rather than throwing these away, bag these items and go to the nearby recycling plant and giveaway this bag to them
Many would deny be making this effort for the sole reason "how does that benefit them?"  Here's how it benefits them, recycling has always been taking for granted and has always been considered futile. The only time people consider recycling is when either they get affected or their loved ones do, if we think about it for a moment would there be anyone left to be saved if the whole world ends up being the victim of global warming? Why don't we opt to end this before it brings an end to us?
HOW MUCH RECYCLING IS VALUABLE:
1.    LESSENS POLLUTION
Recycling diminishes pollution as all that is considered waste is put to a better use. All these unserviceable items are recycled and are made reusable that prevents them from being thrown away hither and tither which therefore reduces pollution.
2.    SAFEGUARDS COUNTRYSIDE
From books to fashion magazines, a paper is as essential in this world as anything else and how lavishly do we use papers without caring once that they come from severing trees. Recycling the consumed papers can help reduce the amount of lopped trees and hence save the landscape.
3.      SUSTAINS MINERAL DEPOSITS
Since recycling is the process of turning worn-out items into operational and utilizable ones it preserves natural resources and averts from the abstraction of raw materials either from beneath the earth or present above it. Resources such as timber and water can be optimized in the future for the best possible product.
4.    HACKS DOWN THE QUANTITY OF WASTE IN THE LANDFILL SITES
In order to keep the waste products away from the streets and from preventing pollution they are buried in landfill sites. Out of 100% of the trash 55.5% of it is buried in the landfill sites and these sites not only have an impact on the ecosystem but also on the underground systems as the substances from the waste products impinge on the conduits and linings that not only causes effusion and leakages but also cause the conduits to bloat that makes them fragile and finally go kaput! The effusion is such scenarios is not only likely to happen but predestined.
For the residents who dwell near the landfill sites are in grave danger of cancer probability and birth deficiencies due to lethal radiation of hazardous gases.
5.    PROVIDES JOB OPPORTUNITIES
Recycling would lead to new recycling plants being inaugurated, hence, would require personnel to supervise the plants and it could help increase the economy of the country as well as provide jobs for the countrymen.
6.    DIMINISHES GLOBAL WARMING
It helps to reduce the pollution that is caused by the waste materials that results in the prevention of global warming. Throughout the process of waste dumping, the vast amount of trash is incinerated and that emits greenhouse gases such as Carbon dioxide, Nitrogen, and Sulphur that chip in the changes done in the climatic zone and global warming
Now that we are fully aware of "how does it benefit us?" we can fully move on to what to recycle and how to save our planet.
LIST OF THINGS THAT ARE RECYCLABLE
All sorts of plastic bottles and containers found in your kitchen or bathroom
Paper and cardboard such as cereal boxes/goodies, magazine, phonebooks, letters etc.
Tin cans, aluminum containers, and other steel products
Bottles of wine, soft drinks, liquor etc
Glass canisters
Now that you know the benefits and as well as the basic know-how about recycling, try it!
---